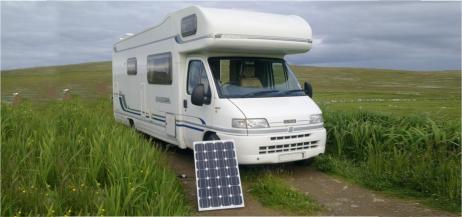 Peterborough Motorhomes supply a range of solar panel systems and solar power modules and can fit them too if required.
From handheld battery chargers to integrated roof mounted solar panel systems, we can advise of the most appropriate system for your needs.
Mono and Multi-crystalline Solar Modules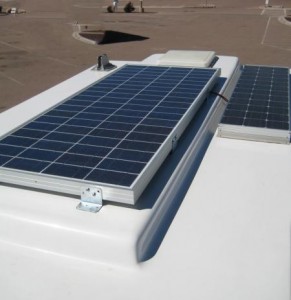 We can supply a range of Mono and Multi-crystalline Solar Panel Modules. All of our modules have been assembled using the highest possible construction methods. Every module has been designed in accordance with IEC 1215:1993 standards, manufactured with proven materials and tested to ensure electrical performance and service life. A bypass diode has been installed to avoid the "hot spot" effect, which would otherwise affect the efficiency of the module.
The cells are laminated between a sheet of high transmissivity, low-iron 3mm thick tempered glass, a sheet of TPT material and by two sheets of EVA to prevent moisture penetration into the module. The heavy duty anodised aluminium frame provides high wind resistance and convenient mounting access. As a result of the exceptionally high standards of construction all our solar modules are covered by a 25 Year Output warranty. This warranty states that within this period the module should produce no less than 85% of its rated output.
Flexible or rigid, lightweight and robust Solar Panel Kits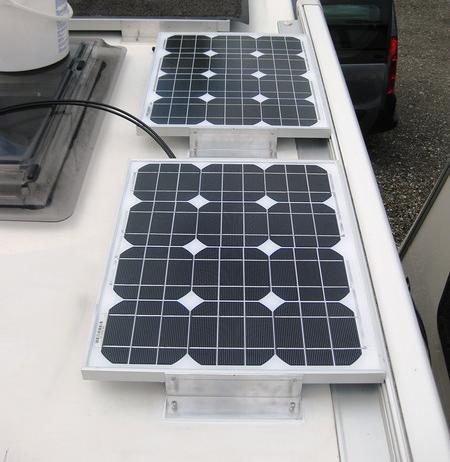 Choose from a range of premium solar panel kits and either fit it yourself or have the competent technicians at Peterborough Motorhomes install it for you. From 5Wp to 150Wp, these solar panels are ideal for a range of uses, whether you just want to prevent battery drain in your motorhome or create energy self-sufficiency in your vehicle.
All premium solar panel kits come with a 2 -10 year module warranty and are supplied with cable, connections and detailed user instructions. For a simple explanation of how they work, the solar panel charges the battery of your caravan, motorhome or boat during daylight hours. The power in the battery is available for use at any time to power appliances – directly if powering 12V appliances, or through an inverter if powering 240V appliances. The system will work even in overcast weather conditions, both in the summer and winter months.
They are available with the following levels of equipment:
Basic Kit - Panel + all necessary cabling + fuse
Basic Kit + Charge Controller - (apart from STP005 and STP010*) No charge controller required for 5Wp or 10Wp panels if the battery is over 70Ah)
Roof / Decktop Kit - Basic Kit + charge controller + full fixing kit, which includes everything needed to fix the panel to your motorhome
Upgrade Fitting Kits - An option to upgrade the standard Roof/Decktop kit with smart streamlined fitting profiles
Solar Power on the go!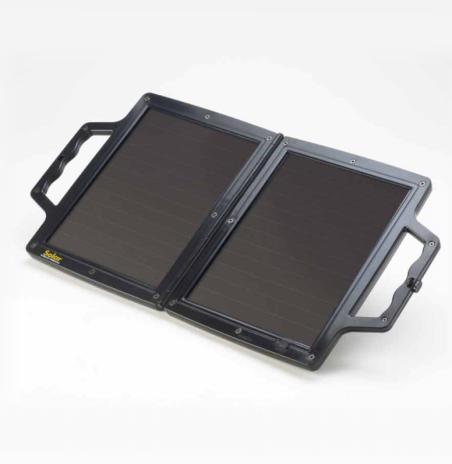 Portable solar power systems can be purchased as a complete kit or individual units. They are advanced portable charging systems that can power any hand held device anywhere, anytime. They take power from their solar panels or via a supplied charge cable that plugs into a computer's USB or portable battery.
Once charged, their internal batteries can either power an iPod for 18hours, a mobile phone for 44 hours, PSP for 2.5 hours a PDA for 22 hours and much much more. They are compatible with the iPhone, iTouch, iPod Classic and all earlier iPods. They also come with adaptors to power all iPod applications. Supplied in a tough casings these systems can take the knocks of every day life.
FREEloader portable solar power options
Peterborough Motorhomes can supply the FREEloader range of portable solar power devices and systems for use in and around motorhomes.


For order enquiries or more information please email us or call on 01778 348831