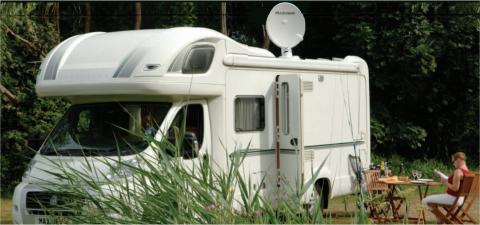 At Peterborough Motorhomes we can assist you to find the perfect satellite system for your needs.
There are many different satellite systems available and choosing the right one for your motorhome can be a complicated and confusing business. With years of experience of advising owners of motorhomes on satellite systems, you are in good hands.
We help by assisting you to narrow down the options by asking you questions such as, where are you going? What channels do you want to watch or listen to? What sort of budget you have in mind?
There are three main types of motorhome satellite systems:
Manual Tuning - There are very popular and require simple assembly and manual alignment. All systems that we supply come with the necessary tools to find the signal easily and quickly.
Semi Automatic - These can be free standing or roof mounted and are operated from inside your motorhome. This eliminates the need to adjust levels and angles by hand.
Fully Automatic - Normally roof mounted, and presented in dome or dish, the fiully automatic systems require fitting by one of our authorised Maxview installers. These systems do all the work by locating the chosen satellite at the touch of a button.
We are an accredited supplier and fitter for Maxview, the UK's leading motorhome satellite system manufacturers. We can supply or install a system that ensures will ensure you will receive a perfect digital/HD signal everytime.
Demonstration of a Fully Automatic Satellite System
Peterborough Motorhomes supply and fit the best in Maxview satellite technology. Research, design, development and manufacturing of Maxview products are carried out in the UK at their Norfolk based head office. Support and service is also UK based.

For order enquiries or more information please email us or call on 01778 348831