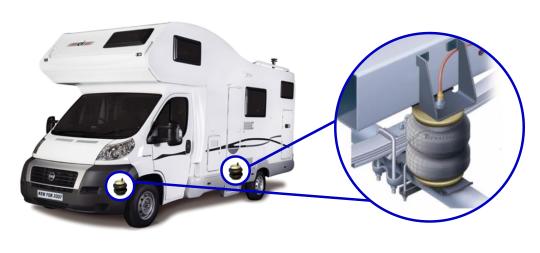 If you own a motorhome and tend to travel long distances, then it`s important to have the right type of suspension.
Peterborough Motorhomes supply and fit a range of pneumatic suspension kits from Drive-Rite. These are suitable for Fiat, Ford, Mercedes and Renault based motorhomes amongst others.
Enhanced Suspension for Leaf Sprung Motorhomes
We supply and fit the Drive-Rite range of air suspension systems ranging from Air helper springs to Semi-Air and Full-Air suspension systems that can enhance the driving comfort stability and control of Motorhomes. Features such as Horizon levelling can level the vehicle and adjust for uneven surfaces. With a Drive-Rite system fitted you can enhance the suspension of your motorhome by adjusting the air pressure to reduce any sagging at the rear that is caused by incorrect or overloading and also maintain a level ride height for your vehicle.
Drivers who have a Drive-Rite system fitted report improvements in their motorhome suspension when travelling on the motorway. Air suspension greatly improves the straight line stability of a motorhome in strong winds and also when being overtaken by heavy vehicles. A Drive-Rite system will help to decrease motorhome body roll when cornering or entering roundabouts as well as greatly improving overall road handling.


A Drive-Rite air suspension system will::
Keep the vehicle level – improve steering control and braking effectiveness, level headlight beams and reduce tyre wear.
Level off-center loads – individual inflation valves allow for adjustment side-to-side.
Reduce suspension fatigue – keep leaf springs from permanent sagging under repeated or constant load.
Reduce bottoming out – protective air cushion softens contact between the axle and frame.
Increase vehicle stability – absorbing road shock providing ideal ride conditions for passengers and load.
Whatever the situation, the pressure can be altered to suit your own preference or need. You can even be remove and reinstall the system on a new motorhome if necessary.
For order enquiries or more information please email us or call on 01778 348831